WE WILL SHOOT IT FOR YOU! Client List Pharmaton Commercail Editorial Story
PHARMATON COMMERCIAL SHOOT, for South Africa distribution
2004
The challenges during this commercial were the weather, jump conditions and using a male jumper to double for our female star.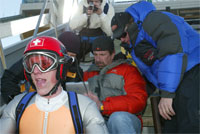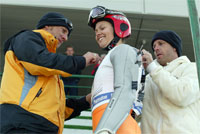 We checked the jump conditions on Friday and told our South African clients from Capetown that everything was a go and we were ready for them to arrive on the weekend to begin shooting on the Tuesday. They left S.A. Saturday on a 33 hour trip from the other side of the world.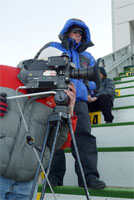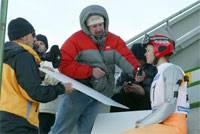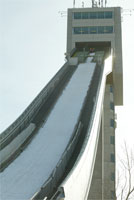 The Olympic jump we were using was in Calgary , Canada and in the course of the following 2 days the weather unpredictably switched on us. We had complete jump, " melt down ". The weather went from calm and
–8c to windy and +15c. The jump was dripping with water and we could literally seeing it loosing snow volume by the hour.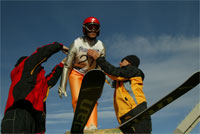 But the snow prep crew at Canada Olympic Park were fantastic. They continued to prepare the jumps with snowcats and shovels and on the Wednesday we again got a switch in the weather and received cooler air, snow at night, low winds and blue sky first thing in the morning - "perfect jumping conditions".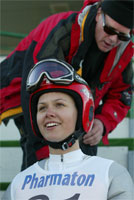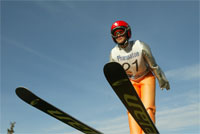 Basically, we nailed it. With two film cameras rolling we were able to get twice as much footage in half the time and achieve great coverage. Murray MacKintosh and Bruce Lawley flew back to Capetown 4 days later with the entire commercial in the bag.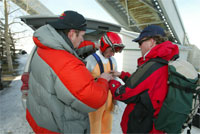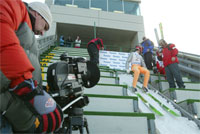 What had originally started out as a stock footage request that would have created a good commercial using lots of CG, turned into a great commercial of original footage for a small increase from the original commercial budget.